Guides, Pilots & Helicopters
Our Guides
Our exceptional guides are fully certified by the Association of Canadian Mountain Guides or the International Federation of Mountain Guides Associations and have a wealth of experience guiding in a backcountry winter environment. Each day, our guiding and snow safety team meticulously monitors snow and weather information and assesses safety hazards to make informed decisions on terrain selection and manage the risks we recognize are present in heli-skiing. And of course, ensure we source the best snow every day.
Upon arrival at the lodge, guests will receive a comprehensive avalanche and mountain travel safety training session from our guiding team. Each guest is provided, and trained in the use of, state-of-the-art safety equipment, including a Barryvox S transceiver, Mammut Airbag backpack, personal radio, probe and snow shovel. View specifics on our snow safety equipment here.
OUR FLIGHT PROGRAM
Our helicopter program has been developed on the pillars of safety, efficiency and excellent communication for our guests and team. Our Guides and pilots maintain a strong and open relationship and work together to ensure a safe and worry free flying experience. Our pilots join the Guiding and Snow Safety team for daily morning meetings to discuss all aspects of snow pack conditions, weather and plan for the best day ski as possible. The flight team and engineers also participate in our annual pre-season guides and lodge training week. This includes a real-life mock rescue scenario with all staff members who will be present at our lodge during the season.
Prior to the first day of skiing, a comprehensive helicopter awareness and safety training session is provided by our pilots. We recognize the nervous anticipation for first time heliskiers. Our experienced team is happy to spend as much time as you need to feel safe and comfortable. Each day guests will board right outside the lodge doors and embark on a flight over unbelievable scenery; efficiently, safely and in style.
All helicopters are maintained onsite at our lodge by two dedicated helicopter engineers.
Our Helicopter Partners
Our helicopter partners maintain an intimate knowledge of our terrain and exceptional rapport for both safety and customer service.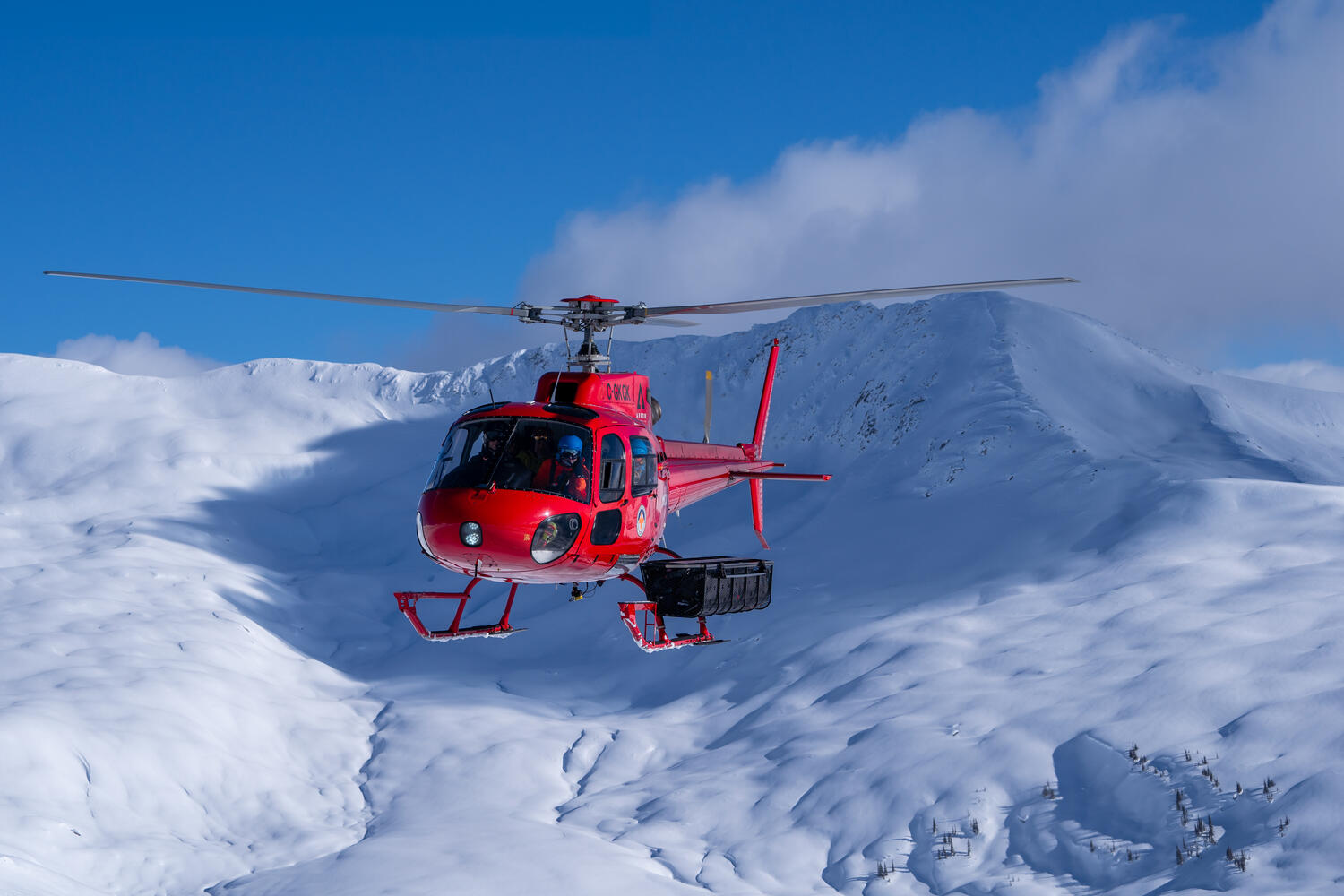 ARROW HELICOPTERS
Arrow Helicopters has been a part of the Mica team since before our first guests took flight. With over 23 years of area knowledge in our mountain terrain, their experienced crew offers an outstanding safety record and superior mountain flying experience. In fact, owner Matt Callaghan has been flying the Mica terrain prior to us welcoming our first guests; scoping it out with Mica's first guides and athletes on early exploration days. Arrow pilots that fly at Mica are certified Parks Canada Rescue Pilots, undergoing rigorous tests to assess their mountain flying techniques and skills that includes an annual training exercise in addition to regular rescue calls.
A-STAR AS350 B2 HELICOPTERS
Arrow's signature cherry red helicopters are synonymous with Mica and have been the top choice for our small group heliskiing format since inception. This 5 passenger helicopter offers exceptional speed and agility with very few limitations in its flight performance. It's the perfect way to find your dream lines in our remarkable terrain.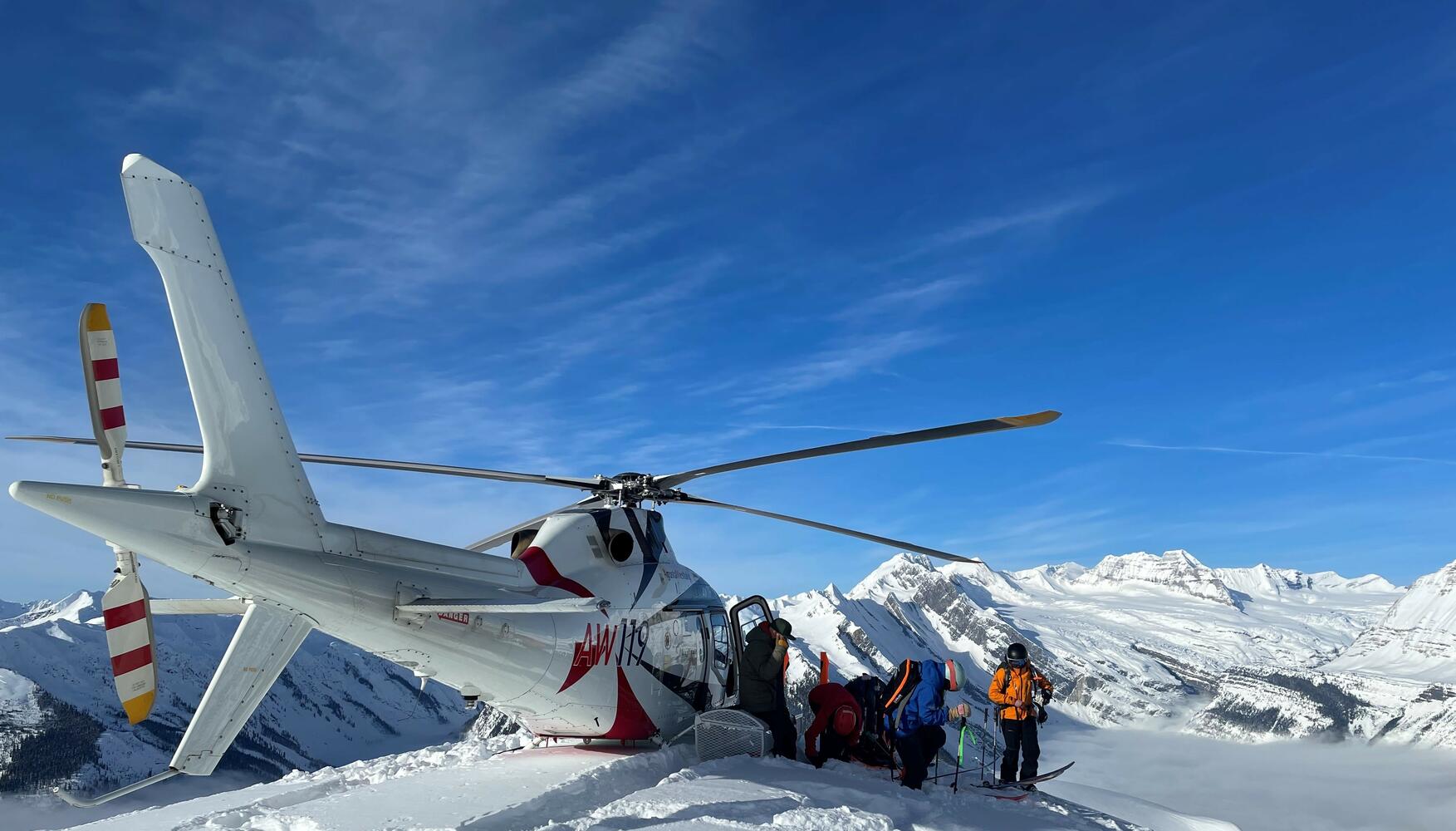 SKYLINE HELICOPTERS
The Skyline team joined Mica in 2022 as part of our private heliskiing program. Their crew brings years of mountain flying experience in challenging environments and are recognized throughout the industry for their expertise and safety record.
AUGUSTA WESTLAND AW119 KOALA HELICOPTER
This seven passenger helicopter offers the latest in performance and technology. Being one of the fastest civilian helicopters with outstanding hover and climb performance, the AW119 is proving to be an exceptional fit for our luxe private program. Thanks to its speed and range, the Koala allows the private program a great opportunity to explore the outer reaches of the Mica terrain in the spacious comfort of these "ferraris of the skies."