New Years Heliskiing Trip
5 reasons you should
ring in the new year at mica
Escape from the ordinary: If you're looking for a unique and unforgettable way to bid adieu to 2023 and usher in the new year, heliskiing from our remote luxury lodge offers an opportunity to start the year on an adventurous note.
This December, celebrate a life well lived and let the good times roll you right into the new year. In our opinion, the best way to celebrate life's milestones is by doing what you love, with the people you love.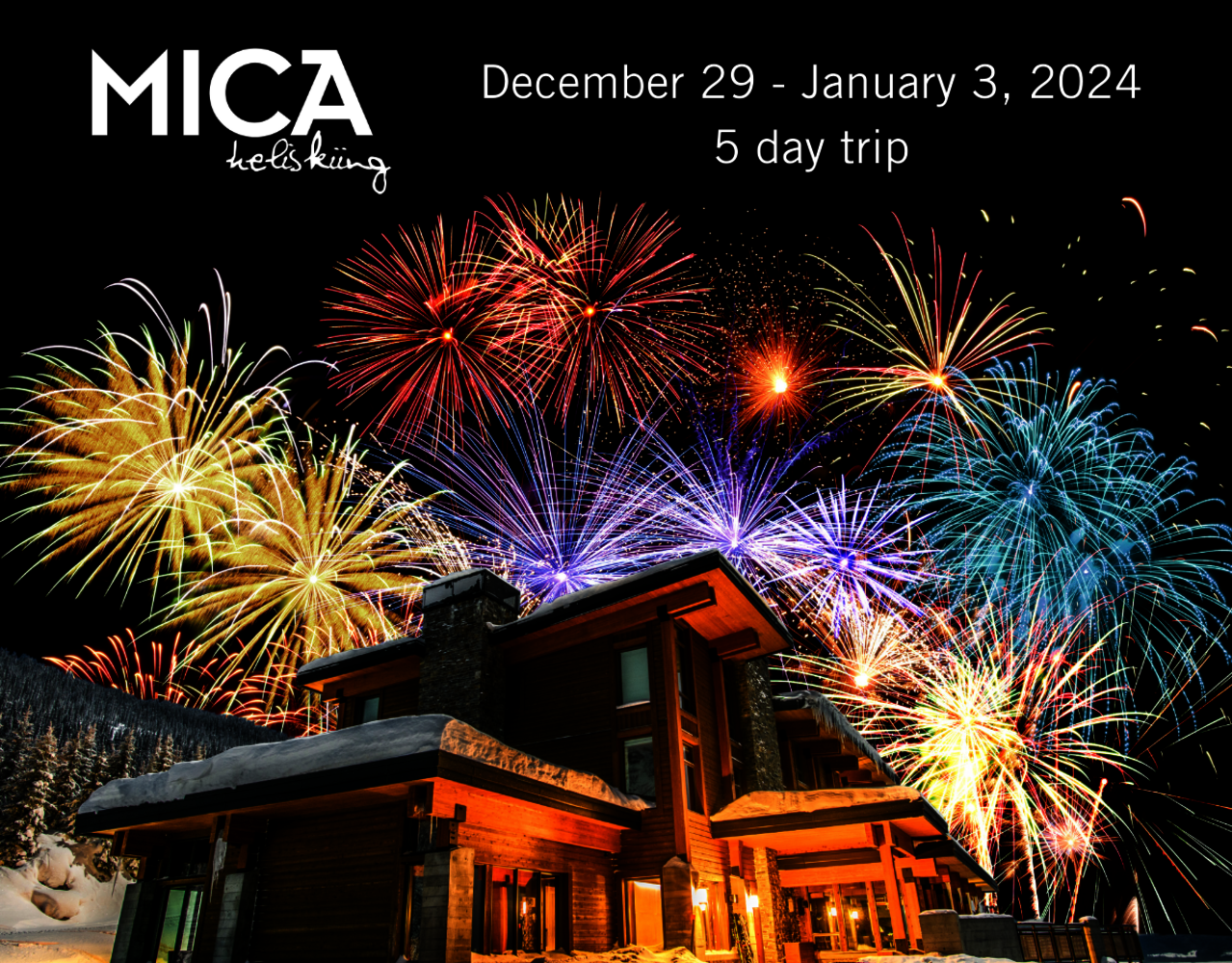 At Mica, you can expect luxury accommodations, gourmet dining, pristine powder, and amazing terrain all nestled within the majestic Canadian Rockies. Please allow us to highlight five fun and unconventional reasons to spend your New Year's with us:
#1 Attain AN EASY AND Epic Resolution
Make "Ski More" your New Year's resolution and be able to proudly get a head start before the clock even strikes midnight.
#2 Unique Countdown Location
Imagine counting down to midnight in the wild and stunning beauty of the Canadian Rocky Mountains, with only the stars and the moon as witnesses. It will be a New Year's countdown like no other. *For those who ride so hard they can't make it to midnight, we also offer a 9pm (or earlier) champagne and fireworks countdown. It will be midnight somewhere, it counts.
#3 Avoid Awkward Family Gatherings
Tired of the same old family drama during holiday get-togethers? Join us and escape arguments over who forgot the cranberry sauce or political debates around the dinner table. Keep it simple with just you, your friends, and endless powder turns.
#4 Ski-nny Dipping (in Layers)
Who says you can't stay in shape during the holidays? Riding is the perfect excuse to indulge in those extra holiday treats and gourmet meals prepared by our incredible culinary team. You know you'll need those extra calories to make the most of December's characteristic storm snow.
#5 Champagne Powder Toasts
Forget about the traditional toasts with champagne flutes; you can have your New Year's toast with champagne powder! Simply scoop up some fresh snow and toss it over your fellow adventurers for a frosty celebration. *Let it be noted that we love all types of champagne and will offer toasts with the sparkly, bubbly variety as well.

WHAT'S INCLUDED ON THIS Trip:
Round trip ground transportation from Kelowna to Mica Lodge *can further customize your trip and book direct return helicopter charters
Exclusive small-group skiing and boarding; groups include 4 guests with 1 professionally trained guide (4 groups of 4 guests maximum)
Shared group use of 2 A-Star helicopters
20,000 guaranteed meters of vertical (with no extra vertical charges should you go over)
Gourmet meals, complimentary wine and beer, and freshly made snacks
Full access to five-star amenities in our luxury lodge, including rooftop hot tubs, gym, and bar
Access to massage therapist services
Personal ski lockers for each guest, equipped with individual boot and glove dryers
Use of state-of-the-art backcountry snow safety equipment; including Mammut avalanche airbag, probe, shovel, beacon and radio
Use of powder skis and poles or snowboard

Champagne and fireworks celebration!
Ready to carve your way into 2024 having a whole lotta fun?
CONNECT WITH US NOW, only 8 seats remain available on this trip.
1.877.837.6191 | info@MicaHeli.com