Why Our Brains Aren't Hard Wired for So Much Pleasure
Richard Bentley was looking for something a little different.
The Brit learned to ski at Chamonix (yes, learned at Chamonix), and created a dreamy lifestyle for himself that split time between that ski mecca and Switzerland—so his standards for world-class skiing were already pretty high. He came to Canada in 2009, the birthplace of heliskiing, hoping for a transformative experience. But he ended up at a big operation that farmed guests out on the mountains on an industrial scale. Disappointed, he decided that if were to keep pursuing this adventure, it had to be on a small-group scale, and he would hunt down the best.
That's how he discovered Mica.

That summer, a friend of his who'd skied all over the world told him about a Shangri-La deep in the British Columbia mountains, a remote spot north of a tiny snow-bound town called Revelstoke. It was a place where the people were warm, the guides were serious about safety and skiing everything within reason, the snow was indescribable, and the terrain appeared in your dreams long after.
He hopped on the phone right then and booked four spots at Mica for 2010, and Richard Bentley has been one of our longest-running guests ever since.
The winter of 2010 saw Vancouver hosting the winter Olympics, which Bentley flew into the midst of on his first-ever route to Revelstoke. Some of you might remember that it rained through that entire Olympics. But when Bentley and his fellow guests exited the transfer bus at the staging area, it was nuking snow.
It snowed every day that first winter of Bentley's stay, between 10-15 cm a day. He didn't believe it was even possible to fly in those conditions, but they hit run after run, like magic. He and his friends left Mica feeling like they'd committed some kind of crime, since it had rained nearly everywhere else in the province.
He booked his second winter with some trepidation, worried it couldn't possibly compare and preparing for an inevitable let-down. But an 80-cm storm cycle with good stability had just ended as they flew across the lake from the staging area to the lodge, and Bentley and his crew felt the same magic as the previous winter. "We'd come back to the lodge after a full day of runs and just stare in disbelief at each other."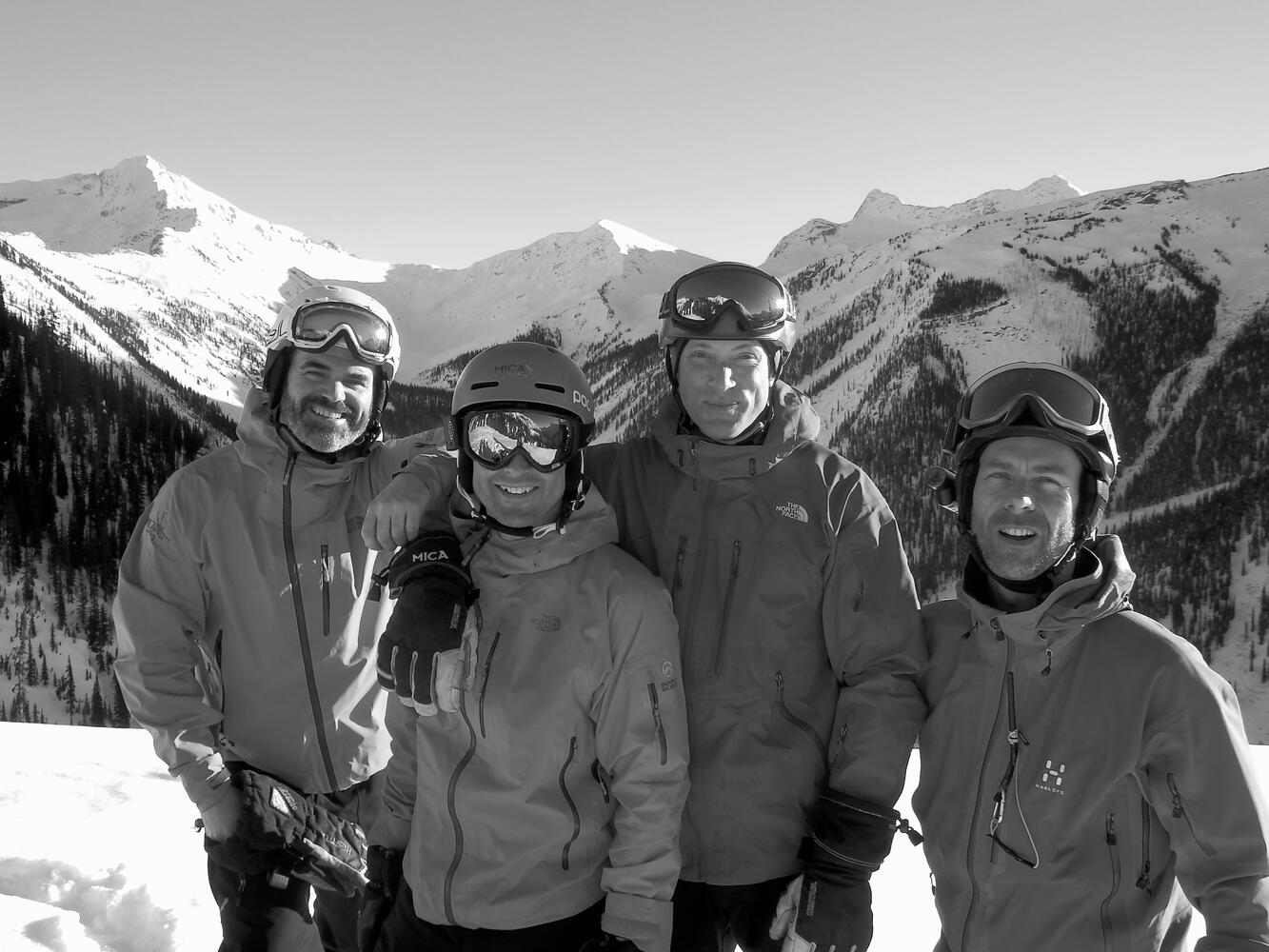 Sometimes in life you see something and think there's no way this is sustainable; the shine will wear off, the enthusiasm will fade, you'll overdose on it.
― Richard Bentley
Richard goes on to say: "What was hard to comprehend was the high consistent quality of the ski product. Run after run, just as you thought you hit the best 1,000 meters of your life, you'd hit the next line and be forced to re-evaluate."
It's happened every year since 2010.
But it's not just the orgasmic skiing that keeps Bentley coming back. It's the people, and the special nature of the place. It was the fact that the staff, many of whom have been at Mica for years, know everyone's names, their children's names. There's no effort they won't go to. *In fact, after missing a season due to no international travel, we squeezed Richard into a trip, dressing him up in a 'costume' at our office so that his smiling face would be a wonderful surprise for our guides and lodge team. An incredible sweet reunion!
It's the lodge, that immediately puts guests in the state of mind of being in the backcountry, on a true holiday away from the real world and their everyday lives.
"We'd always think: there's no way it will match the previous year. And then Mica knocks it out of the park again." He laughs. "Our brains just aren't hard-wired for that level of pleasure."
That's what we're aiming for: blowing right through the hard wiring. See you next winter, Richard.