A Restaurant Worth Taking A Heli To
One of the most remote ski lodges in the world is pushing limits on the slopes—and in its kitchen.
Spacer

Format: Small Screens
Small Spacer
Format: Large Screens
Small Spacer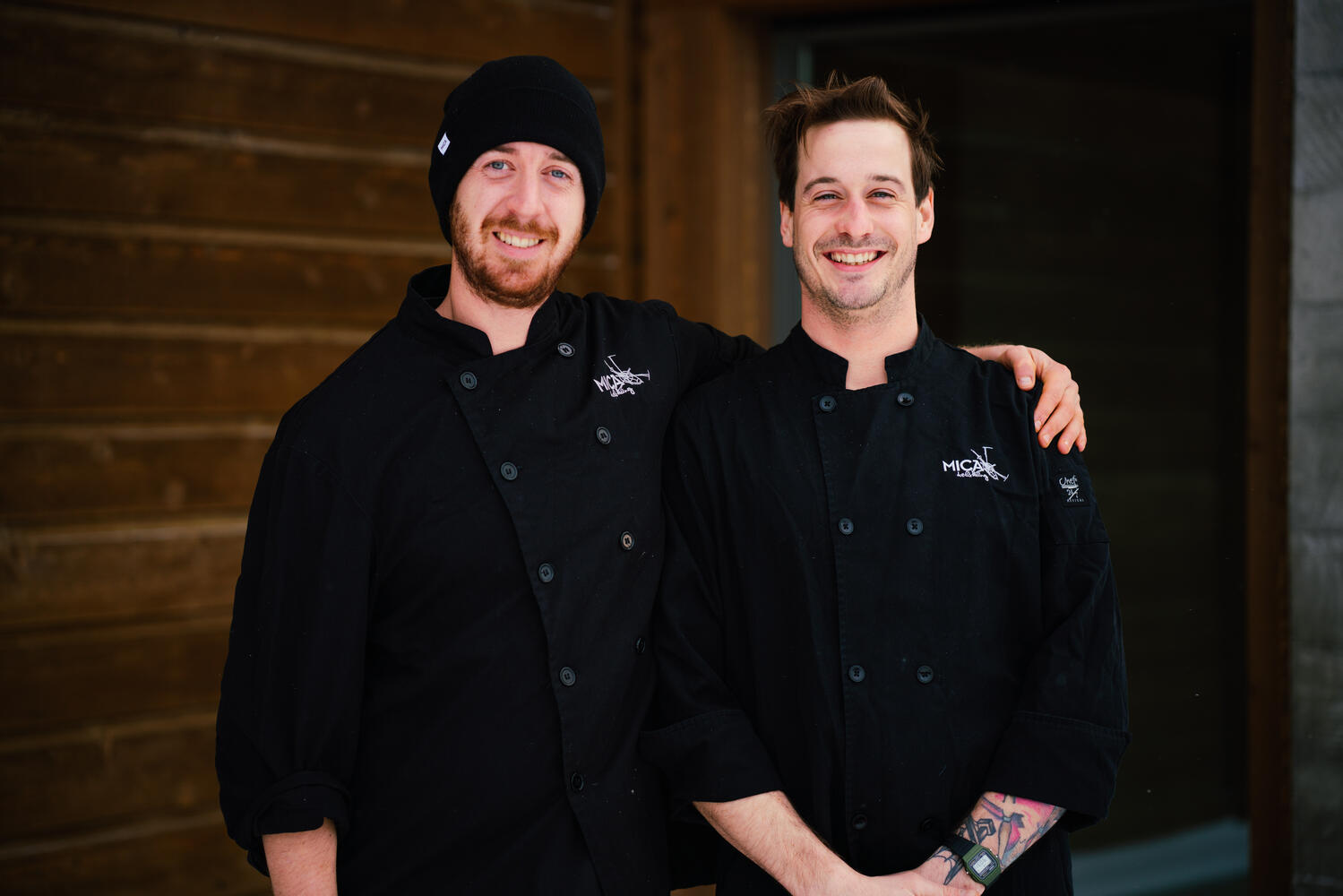 To get to Mica Heliskiing's lodge you must first make your way from Calgary to Revelstoke, a five-hour, white-knuckle drive over Rogers Pass, one of the most avalanche-prone pieces of highway in North America. (Its steep mountainsides are famous for taking a battering by howitzers, which the Canadian military uses to control avalanches.) Then you must keep driving for another two hours to the end of a mostly abandoned road hemmed in by glaciers. After that, there's a helicopter flight over the Columbia River, which delivers you to the lodge, spectacularly perched on the edge of the Rockies.
Most heli-skiing lodges—even those with ambitious culinary programs—rely on a system of ordering ingredients in bulk at the start of a season so that they can easily produce a repetitive menu. But the restaurant at Mica rarely repeats a meal during the entirety of a season. To the contrary, the ski lodge has upped the ante, offering something fairly unique in the industry: five-star food with a commitment to seasonal and locally sourced ingredients.
"What we're doing here with local food is not out of the norm in an urban setting," says Benoit Pageau, the 30-year-old head chef at Mica who hails from Montreal. "But when local food has to be flown in from the nearest town 200 miles away in the dead of winter, and you have to load it onto a toboggan just to get it into the kitchen—it represents a beautiful challenge."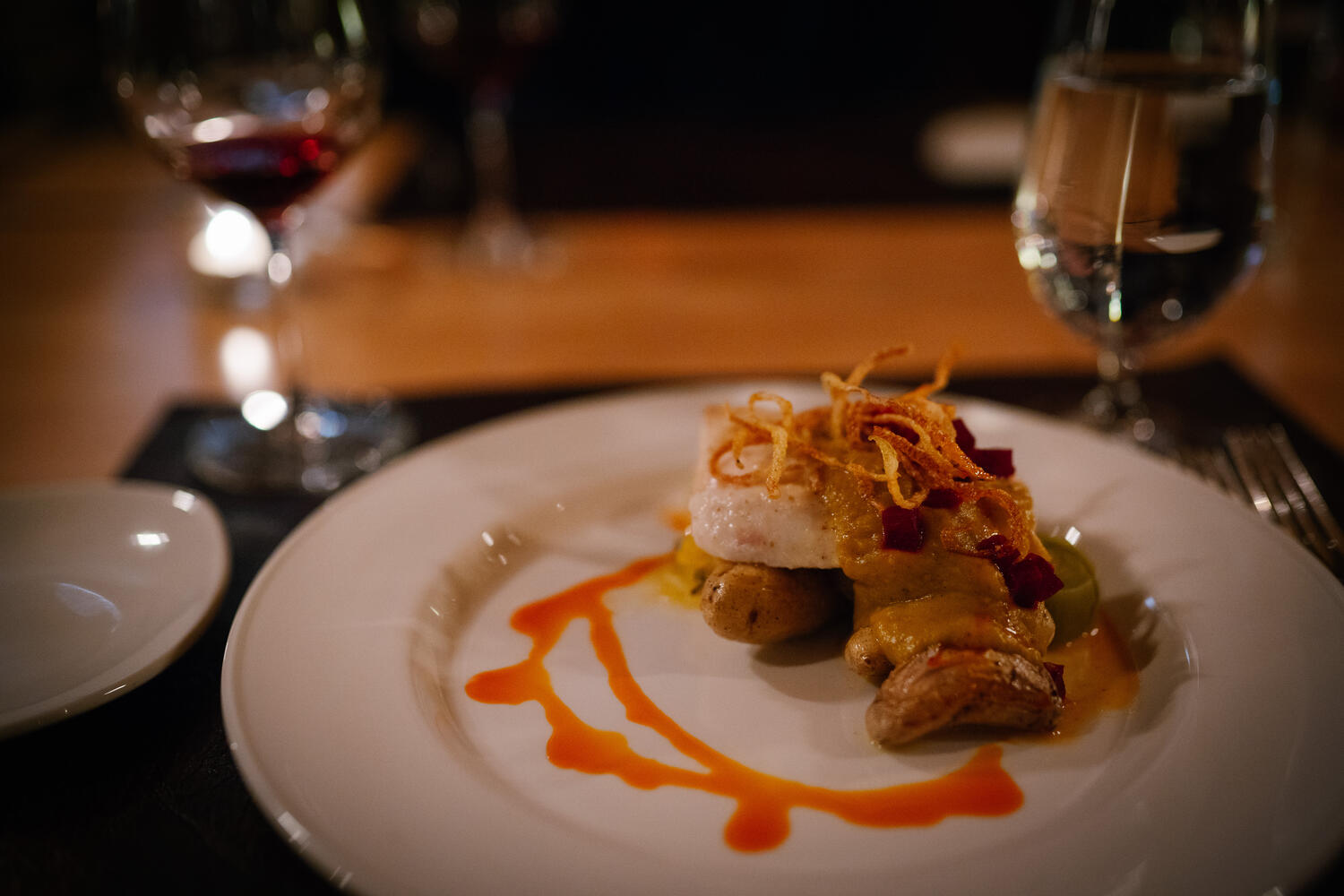 These days, the luxe lodge is coveted as much for its legendary powder as it is for its elevated culinary offerings, which include Merlot-braised elk short ribs with polenta, grilled kale, carrots, pickled fennel, and huckleberry demi-glace; and spiced steelhead trout accompanied by roasted spaghetti squash, greens, candied beet coulis, black rice, and garlic flakes. To create dishes like these, Pageau's team sources heritage meats from ranches and farms between Calgary and Vancouver—all flown in fresh with each new set of guests. Overwintered vegetables come from Mara Valley Produce, a small farm more than 65 miles southwest of the lodge in the considerably warmer Okanagan region. "Over the winter, we'll use all different techniques, like fermentation and preservation, to transform our vegetables," says Pageau. "The big thing here is the return to slow food, to Canadian rustic." For fresh greens like baby kale, sprouts, and herbs, there's a small greenhouse in the back of the kitchen.
The team isn't idle in the summer, either. The hyperlocalism extends to making jams, spreads, and fruit vinegars from huckleberries, blueberries, and raspberries picked from the slopes above the lodge. (Pageau's wild blueberry, lemon, and cinnamon jam has become a beloved breakfast staple.)
What accounts for Pageau's commitment to working with local products in such a challenging setting? "Of course there's the taste reason behind it," he says. "But we're also supporting local people who are treating animals well and growing vegetables without pesticides. We want to showcase that even given Mica's remoteness, we can offer an amazing culinary experience with food that comes from right here in British Columbia. We're demonstrating that it can be done."