tom sigston
In the event of an apocalypse, Tom Sigston should probably be the first person you call.
But before we get into the specifics of why you'd want our long-term Maintenance Manager on your survival team, we feel compelled to disclose a certain fact: Tom's dream was never to work at Mica. ("What?" you gasp incredulously. "Isn't that everyone's dream?"). Rather, our Mica MacGyver dreamed of owning a simple bike and ski shop in small-town B.C.
Tom (aka. Tommy Gunz, The Governor of Givin'r, Leafs #1 Fan, Big Slice) grew up on a hobby farm in Salmon Arm, 250 kilometers south of Mica (that's 155 miles, for our American friends). While his family raised horses, some hay and whatever vegetables they could get their hands on, Tom's father made his living as a heavy-duty diesel mechanic. Tom learned his way around machinery in his dad's shop, cleaning parts and passing wrenches when he was small and then more involved tasks as he grew. But he never thought that was what he wanted to do with his life.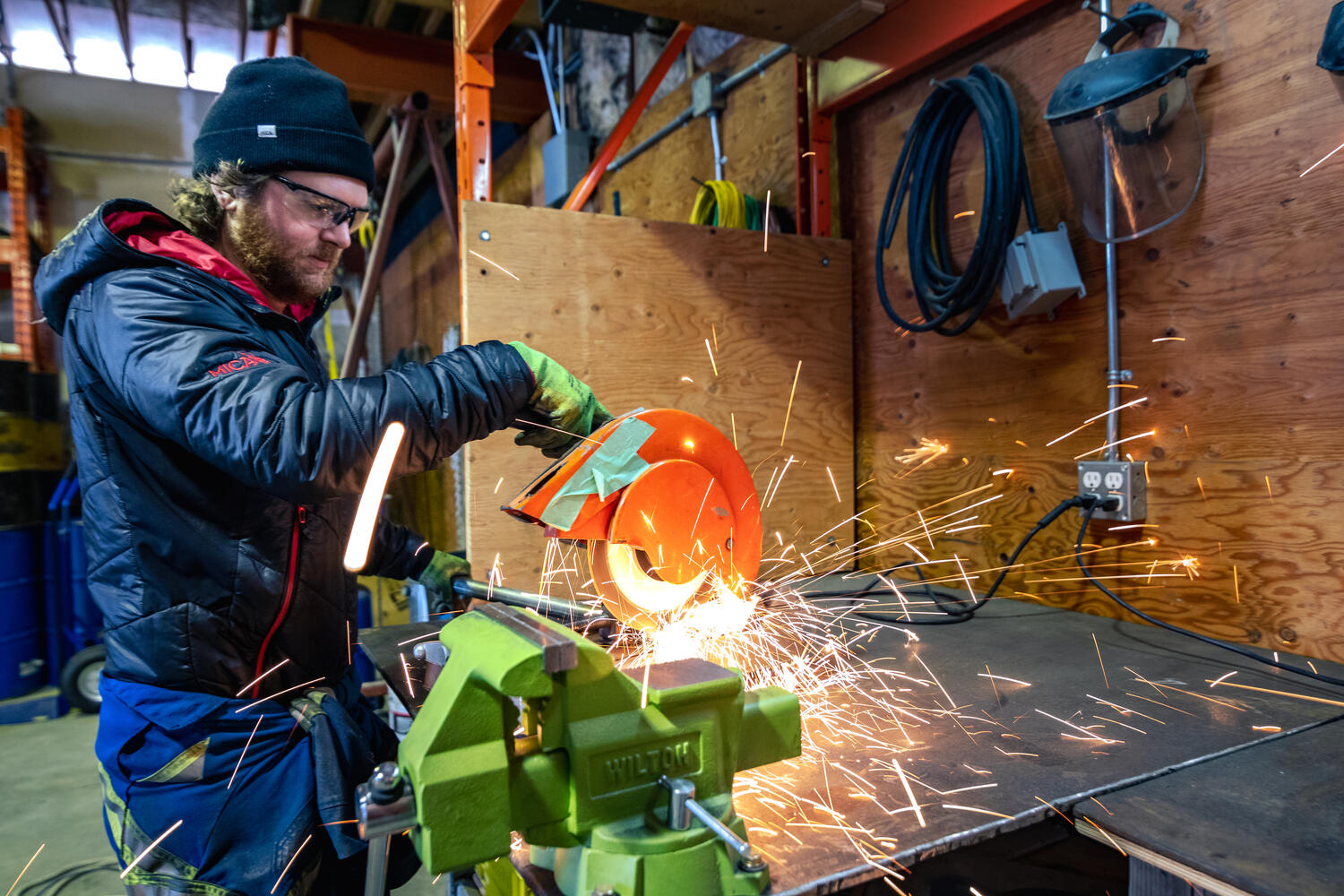 "I tried to follow my own path," he laughs, speaking from Revelstoke, his home in the precious little time he's away from Mica.

Fo

llowing high school, Tom flew the coop heading to southern Oregon to attend a mountain bike mechanic school—an avid mountain biker, he raced at the provincial level—with an eye toward opening his own shop. Next was a job as a ski tech at a ski shop in Salmon Arm to gain experience on the winter side of things. But here's where his path took a turn: the next step, business school, required the kind of money that ski techs, frankly, don't make. He went back to work for his dad to make that money, and then, three months later… enter Mica, stage right.

Tom's dad installed Mica's generators over ten years ago, and Tom came up to help. The then-maintenance manager offered him a job and by 2016, Tom was working year-around in full-time maintenance. He loves the fast paced, problem solving, busy work days of the winter (sprinkled in with a lot of fun shenanigans) as much as he loves the solitude of being up at the lodge in the summer. Working on large-scale off season projects, spending time on Kinbasket Lake in the boat and catching the beautiful summer sunsets.
But when we say "maintenance", here's what that really means. Tom knows how to fix generators and run water systems. He knows how to drive snowcats to clear snow from the helipads and how to fix the excavator and the jet boat. He figures out how to fix baseboard heaters, ice machines that decide to suddenly stop making ice, and dishwashers that give up the ghost. He knows how to (kinda sorta) bartend. He knows how to build things (that actually work) from any material. Like the giant jenga game he made once for guests, or the outdoor ice bar, or the jumps with the snowcat, or that banked slalom course that got so icy and fast no one could even make it to the bottom without bailing spectacularly. He knows how to fashionably piece together stunning costumes from our tickle trunk and dance a mean two-step. He knows how to have fun and can throw most everyone back on their heels with his wit.

And he knows how to square off with the odd black bear that tries to get into the lodge and the wolverine that helped itself to our trash once. Tom tied one end of a rope to the trash can door and the other to the snowcat and then backed up the cat, the wolverine charging out in full pissed-off fierceness.

And that's why you want Tom Sigston on your apocalypse survival team. But you'll have to come up to Mica to find him because we are holding onto this boy tightly.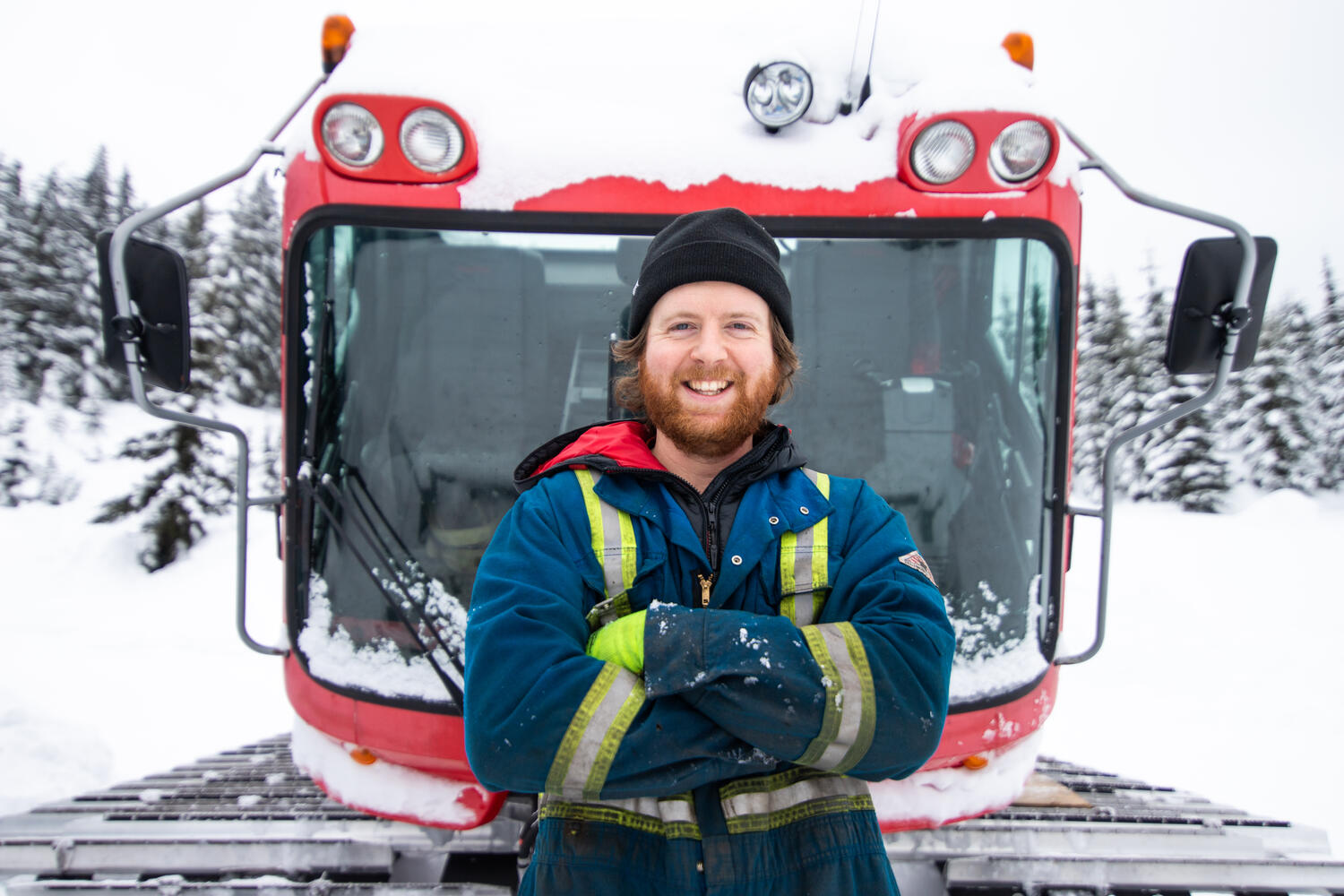 If the world ever falls apart, I know exactly where I'm going. I'll probably already be there, he jokes.
Honestly though, a big part of why I let the bike shop idea go came down to Mica as a company; the culture, the people I work with, the guests. I'm forever grateful that Mica changed the course of my life.
— Tommy Gunz