Should I stay or should I go? When it comes to experiencing heliskiing for the first time (or anytime) you most definitely should GO. The hype is real.
The excitement and anticipation of being dropped at the top of a mountain is indescribable; even the most seasoned heliskiers still get butterflies. Add in jaw-dropping views and turn after turn in weightless untracked powder, there is not much else that gives you that same euphoric feeling.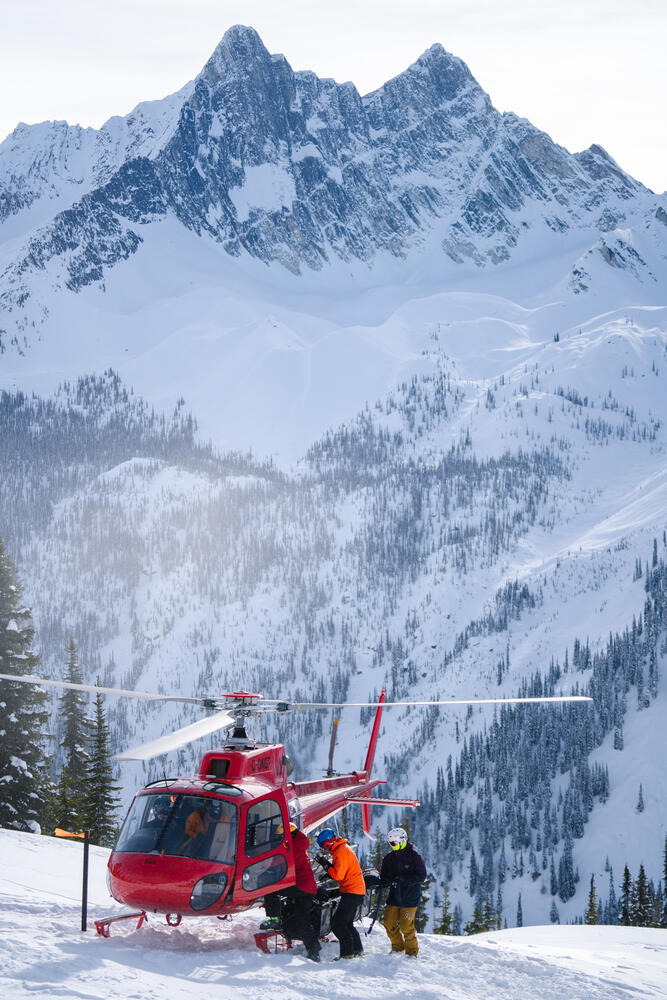 WHY MICA?
With spectacular Rocky Mountain vistas, sixty feet of annual snowfall, a 100% small group format, luxury lakeside lodge experience and a super fun and experienced team; you'll see why Mica is a heliskier's paradise.
Our team never forgets it was once our first time too. We absolutely love to share our knowledge and passion for mountain adventures. From deciding what to pack to guiding you down the slopes we will do all we can to ensure the journey and experience is as smooth, and fun, as possible.
We have got you covered.
We have robust safety protocols with highly experienced and skilled guides and pilots managing our ski program. All of our guides are Accredited Canadian Ski Guide certified and some of the most experienced in the business. Our Guiding Managers have all been with MICA for over 10 years and know the terrain like the back of their hands. The guiding team will get a feel for your confidence and skill level and introduce you to powder turns and backcountry terrain at a pace that feels comfortable to you.
Prior to your first day skiing we will set you up on our off-piste selection of boards/skis and all snow safety gear. Every guest will receive field training covering the use of radios, avalanche transceivers, rescue techniques and helicopter safety.
COMMON FIRST TIMER FAQ'S:
Small group can mean different things at different operations. At Mica, this means there will be 4 guests + 1 lead guide for each ski group; you fly together, you ride together. If you join us with three friends you will be partnered up. Otherwise, our guides will discuss your experience and ski skills and will group you will similarly skilled riders. In our opinion, small groups are always the best way to heliski but particularly so for first timers. Guides can cater the program and terrain selection to better suit the snow conditions and abilities of your small group. No pressure, all the fun.
We get asked this one often. We recommend skiers and boarders be an intermediate to advanced ski resort skier. If you feel relatively comfortable on varied terrain and snow conditions, you should be fine. As you progress through the trip your confidence will grow and you will be exposed to more challenging terrain. The best way to learn to ski deep powder is to join us and ski deep powder!
The real key is FITNESS. You will be riding consecutive days and the fitter you are, the better your ski holiday will be and the more fun you will have. Fitness is just as important as your ability, if not more so.
Bring your boots, helmet, goggles and winter wear. We provide all backcountry equipment – boards or skis, avalanche gear, radios. Our Guiding team will walk you through a snow safety and helicopter orientation, teaching you how to use all the equipment and feel comfortable with it.
Proper layering is essential. We recommend bringing a wool baselayer, midlayer jacket (thickness varies for each person's body temperature), face gaiter and a Goretex outer layer. Helmets are mandatory and ensure your goggles fit your helmet and face well so you don't fog up.
Spacer

Format: Small Screens
Extra Small Spacer
Format: Large Screens
Extra Small Spacer
A FEW EXTRA TIDBITS OF FRIENDLY ADVICE:
Always listen to your guide and always speak up. Communication and trust is key in the backcountry.
HAVE FUN! Take your time, breathe, enjoy the jaw dropping scenery and remember to soak it all in.
Be prepared for an unparalleled mountain adventure. The Mica experience is so much more than the skiing. Our après game is strong and we will wine and dine you with the finest cuisine in our luxury lakeside lodge. Tales are shared, friendships are forged, lifetime memories are created. After all, many "First Timers" have become "All The Timers" and we love welcoming them back year after year.
Want to learn more? Connect with us today.
Email us at info@micaheli.com or give us a ring at 1.877.837.6191