A Happy, Healthy Welcome
As we look forward to welcoming you back to Mica this winter, we are taking careful and measured steps to ensure that every aspect of your experience has been considered. We are committed to protecting the health and safety of our guests.
This guide below has been developed to provide our guests with a high-level road map to the practices and protocols that will be in place at Mica lodge.

Thank you again for your willingness to work with us as we prepare for the coming season. Words alone cannot express how excited we are to be welcome guests back for our 20th anniversary season. See you this winter!
Sincerely,
The Mica Team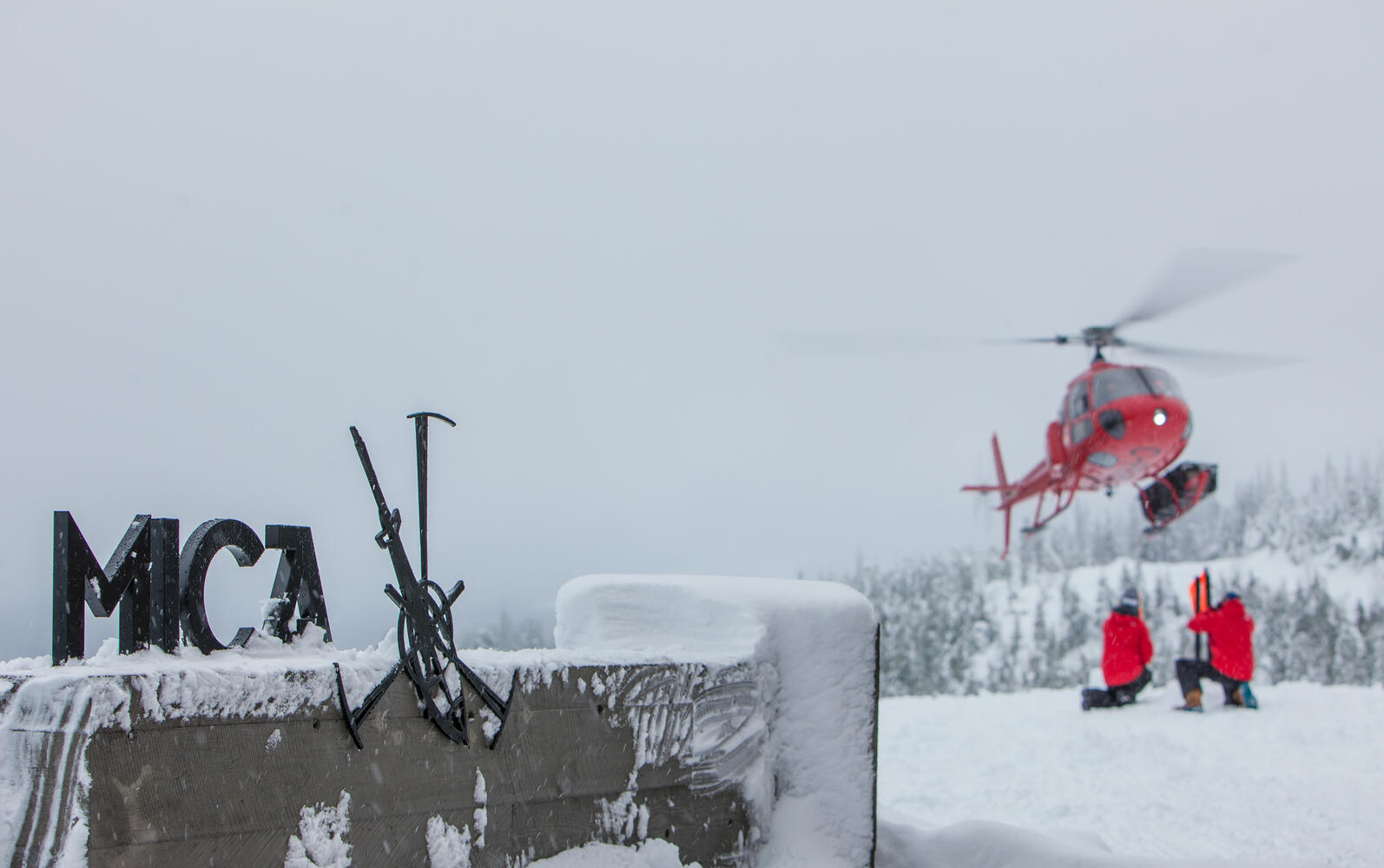 TRAVEL REQUIREMENTS TO AND FROM CANADA
Travel is different these days and it is important for all of our guests to ensure they understand the current processes in place for arriving and departing Canada.
Please read the linked information and connect with us if you have any questions. We are here to make every step of your journey to Mica as seamless of an experience as possible.
OUR PROMISE TO YOU
No one will be permitted to travel to our lodge if they are displaying any signs of illness, however minor. This applies to our Guests, Team Leaders, Managers, Lodge Staff, Guides, Pilots, Engineers, and Suppliers.
Our lodge and heliskiing experiences will operate with the highest safety standards and will follow all government health and safety guidelines to ensure a safe and enjoyable guest experience.
OVERVIEW
This Guide outlines best practices in the following areas:
Pre-trip communications will include Mica's Health and Safety Policies.
Pre-Arrival Health Assessments will be conducted for all guests and staff members.
Physical Distancing protocols will be in place to adhere to all provincial guidelines. If required, masks will be provided for use in indoor spaces and all transportation vehicles.
Cleaning and Sanitation will be done at increased intervals and in accordance with all recommended best practices.
Staff Practices will include daily health assessments regular COVID-19 antigen testing and increased training on Mica's health and safety protocols.
Transportation protocols will be in place and adhere to all provincial public health guidelines for cleaning, sanitization and physical distancing.
Pre-Arrival & Health Assessments
Each guest will receive communications from Mica prior to their arrival with information about our Health and Safety policies, changes to services and details about their stay.
In accordance with Canadian government requirements, all guests and staff of Mica are to be fully vaccinated with a Government of Canada-accepted vaccine at least 14 days prior to their arrival at Mica lodge. 
Prior to arrival at Mica Lodge, all guests and staff will be required to confirm that they are in good health, not displaying ANY applicable symptoms, and have not been in contact with someone that has a confirmed case of COVID-19. 
Guests or staff exhibiting symptoms of COVID-19 will not be allowed to travel in any Mica vehicles or stay at Mica Lodge.
Guests are encouraged to communicate any special health and safety related requests prior to arrival.
Upon arrival, guests will receive a lodge orientation and run down of all COVID-19 related health and safety protocols to adhere to during their visit.
If guests are not able to meet any of these requirements, we kindly ask that you contact us right away so that we can reschedule your visit to Mica lodge.
Health Assessments
All staff will be required to complete a health self-assessment and a COVID-19 antigen test prior to coming to the lodge.
All guests and staff will be requested to self-assess for COVID-19 symptoms prior to leaving their rooms every morning.  
Anyone who is visibly unwell at the lodge will be immediately quarantined and not permitted to participate in any activities until cleared to do so.  
 
We are fortunate that the size and open concept design of our lodge allows us to provide our guests and staff plenty of room to practice safe physical distancing.
Key Steps:
Guests and staff will be asked to respect a minimum distance of 2 meters (6ft) apart whenever they are in common areas and not with their family unit or travel cohort.
All guests will have their own lodge room with private ensuite bathroom, unless joining us with their respective partner or friend with whom they have agreed to enjoy shared accommodation.
The number of guests and staff allowed at any one time in high congestion areas such as the ski equipment room, gym, retail area and hot tubs will be limited. Signage will reflect area limits.
Tables and seating in the dining room and bar will be spaced to ensure adequate physical distancing.
Seating in the dining room will allow a maximum of six guests per table. Service staff will be wearing masks.
Signage is located throughout the lodge to remind guests to respect physical distancing.
 
Sanitization stations are located in key areas throughout the lodge and chalet, including all entrances and common areas.
Increased frequency of cleaning and disinfecting, especially of high touch areas, will be several times daily. 
Common areas, vehicles and helicopters will be sanitized daily with an electrostatic sprayer. 
Guest rooms will be sanitized with an electrostatic sprayer after each guest departure. 
Personal protective equipment (PPE) will be worn by all housekeeping staff.
All single use items and remnants will be discarded between each guest stay. 
All staff will receive training on COVID-19 safety and sanitization protocols
In accordance with government regulations, hospitality workers are required to receive the COVID-19 vaccine. As such, all 2022/23 Mica staff  will be fully vaccinated.
Daily staff meetings will reinforce on-site safety protocols and remind staff to remain diligent and do their part in keeping each other, and our guests, safe.
Lodge and Guiding staff will be COVID-19 antigen tested and asked to complete a self-assessment checklist prior to beginning their shift at the lodge. Office staff will be COVID-19 antigen tested weekly and asked to self assess for COVID-19 symptoms on a daily basis.
Staff will be required to stay home if unwell or quarantined if at the lodge until they can be safely transferred out.
All staff will be required to wear appropriate Personal Protective Equipment (PPE) inside the lodge wen required.
Each MICA Team Member joining us for the season will be provided and required to sign a COVID-19 Health and Safety Policy Declaration confirming their commitment to comply with all of Mica's health and safety policies, rules, responsibilities and procedures. 
 
Safe Transportation Practices:
Hand sanitizing is required upon entering and exiting all Mica transportation vehicles. Sanitizer will be provided.
Mask or buff wearing is mandatory in all staff and guests transportation vehicles.
High contact areas in the shuttle and staff vehicles will be sanitized after each trip. High contact areas include:

Keys and door handles
Headrests 
Seatbelts
Steering wheels, gear shifters, center dash panel for radio and defrost/ temperature control
Hand holds and center consoles
Control panels on doors for windows and door locks 

During transfers at staging, the shuttle will be sanitized using an electrostatic sprayer after the inbound guests have exited the shuttle and prior to the outbound guests embarking on the shuttle. 
Field Operations:
All guests and staff are required to wear a buff or mask in the helicopter at all times.
No food or beverages are to be consumed in the helicopters.
Guests are requested to maintain physical distance at all times in the field the best they are safely able to.